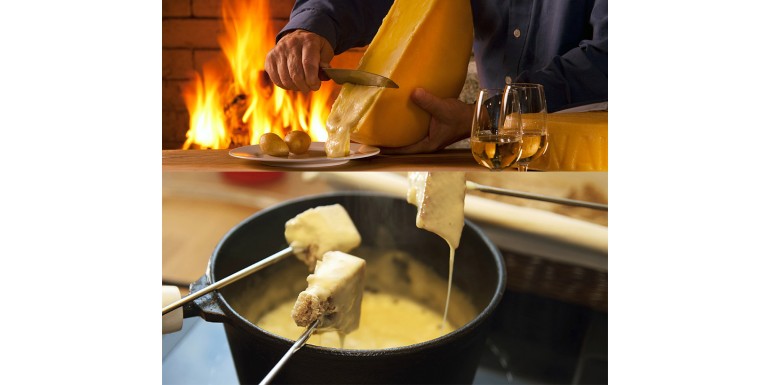 Swiss Wines for Cheese Fondue and Raclette
Cheese Fondue and Raclette
Two traditional Swiss dishes from the Swiss Alps and Jura mountain areas.
Cheese Fondue /fɔ̃dy/ is a traditional Swiss dish of melted cheese served in communal pot (caquelon or fondue pot) over a portable stove. The dish was popularized in the mid-1900's with it's origins pointing to Canton Fribourg or Neuchâtel a few hundred years ago. Cheese Fondue consists of 1 or 2 or more regional cheeses, the most popular being the "moitié-moitié" (half-half in french) with a mix of Gruyère and Vacherin. Another popular mix consists of Gruyère and Emmental.
Raclette /rəˈklɛt/, a distinctive semi-hard cow milk cheese with origins in the Swiss Alps (Valais), has a history that goes back to medieval times. Raclette is also the name of the popular dish based on heating the Raclette cheese and scrapping it off the melted part.
What to Drink
   An un-oaked crisp white wine.
   An un-oaked light and fruity red for non-white wine drinkers.
   Hot black tea (no milk) for non-wine drinkers.
Traditional:
   Chasselas (called Fendant in Valais)   [ indigenous ]
Alternative - dry white from the Swiss Alps:
   Petite Arvine   [ indigenous ]
   Heida   [ aka Païen, Savagnin Blanc ]
   Humagne Blanche   [ indigenous ]
   Amigne   [ indigenous ]
Light and fruity dry red (un-oaked):
   Gamay 
   Pinot Noir 
   Dôle (traditional Valais blend of Pinot Noir and Gamay)
Please click the bottles or links below for more details about the wines.
Traditional - Chasselas (Fendant in Valais)
Alternative Indigenous Dry Whites
MARIE-THÉRÈSE CHAPPAZ
GRAIN ARIVNE AOC Valais
---
Lovely fresh and aromatic Petite Arvine with stony and grapefruit notes. Rich, elegant, intense and well structured palate with a long mineral and salty finish.
From Swiss Wine Legend Marie-Thérèse Chappaz !
Biodynamic.
Alternative Light and Fruity Dry Reds
LUC MASSY
Epesses Crêt-Bailli AOC Lavaux
---
Deep red colour. Berries aromas. Supple in the first sip, it seduces by its roundness, its discreet tannins which hide behind the fruity fragrances that are complemented by spicy notes.
MARIE-THÉRÈSE CHAPPAZ
DÔLE la liaudisaz AOC Valais
---
Clear, fresh and lovely reductive red with floral and crystalline flavors. Light, straight, fresh and fruity red, with exciting spicy flavors. Lively, crunchy.
From Swiss Wine Legend Marie-Thérèse Chappaz !
Biodynamic.